Goodman, Amy. The exception to the rulers; exposing oily politicians, war profiteers and the media that love them
GOODMAN, Amy. The exception to the rulers; exposing oily politicians, war profiteers and the media that love them. Hyperion. 342p. notes. index. c2004. 1-4013-0799-X. $12.95. SA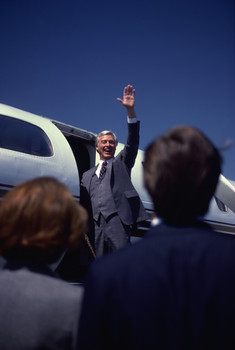 Goodman is the host of Democracy Now!, a daily news program aired on Pacifica radio stations and NPR. She has won many awards for her news coverage in dangerous places like East Timor or Manhattan on September 11, 2001. Because of her consistent demand to find the truth and to expose the propaganda machines in world governments, including our own, she has been mocked and denied access to the airwaves. Yet she persists in exposing how big oil, big business and big government are working together to limit democracy even as they say they are promoting it. She is the person who coined the phrase "The Silenced Majority" to describe how Americans are afraid to express their views for fear of being called "unpatriotic" or actually being arrested for having opinions contrary to the party line--both Republican and Democratic. As she says, "Democracy works only when people can fully inform themselves and debate issues freely."
In the paperback edition, she has added a preface that updates the suppression of open debate over the Iraq war. Throughout the book, she gives many firsthand accounts of situations where journalists were forbidden to report what they have actually seen, even to the point of being deliberately targeted in war zones and killed. While her stories are shocking, they are stories that must be told and she supports her ideas with thorough notes. Nola Theiss, Sanibel, FL
S--Recommended for senior high school students.
A--Recommended for advanced students and adults. This code will help librarians and teachers working in high schools where there are honors and advanced placement students. This also will help extend KLIATT's usefulness in public libraries.